Our newest project kit has arrived...just in time for creating your own spring bouquet! Perfect for Mother's Day, Teacher appreciation or Just because. Say thank you with this no-maintenance bouquet. There's no watering, no weeding-just enjoying! This easy to assembly kit comes with the petal, stems, and buttons to create the flowers, as well as add the finishing touches to the bouquet.
This is a "baker's dozen" kit...which means you can create and give (or keep) a dozen flowers, and have a bonus flower left over to pass along to someone new! Give it to someone to make their day (a grocery store clerk, a librarian, the teller at your bank). Anyone you encounter on your way that you'd like to give a little "thank you" to!
Here' is the ordering information:
Item #134542 $12.95
Kit contents:
2 sheets of preprinted and precut flowers on 12" x 12" cardstock; makes 13 flowers using Pool Party, Gumball Green, Calypso Coral, Daffodil Delight, and Rich Razzleberry
13 Vintage Faceted Button
13 green floral wire stems
Adhesive not included. (Glue gun recommended.)
Now here's a fun video to help you see how this fun project comes together!
Today is also download Tuesday! We have some fun new downloads for you today and there's even a FREE download...yahoo! Here are the downloads for this week! The first one up is the FREE download!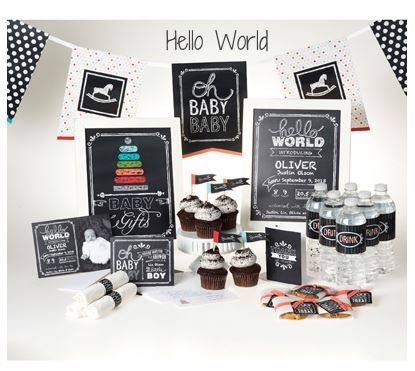 Which is your favorite download this week? I actually have two...I wish I had a baby shower to plan! I really like the Hello World and I like the Be Yourself Kit!
Don't forget I'm participating in the LNS 2013 Spring Treasure Hunt and I've decided to give away my clue, so you will want to participate in the treasure hunt and return your clues to me at the end of the contest!
Win $150 in Stampin' Up! Products
join
me on Facebook
follow
me on Twitter
be inspired
on Pinterest