Hi friends! It has come to my attention that some of my readers are not aware of what the Big Shot is!!! So today I will attempt to provide you with some information of this wonderful tool.
Here is what this fantastic product looks like!
So what is the Big Shot? It is a manual, multipurpose die-cutting system that is used to quickly and easily create various projects! Great for cards, scrapbook pages, home decor and more. Capable of cutting die-cut or embossed shapes, envelopes, tags and baskets. Can cut a variety of materials (such as paper, thick corkboard, thick chipboard (59 mil) Balsa wood, Tin (.008) Aluminum (.016) fabric, canvas; the list goes on), needs no electricity! It can also be used with dies from any manufacturer.
It comes with 2 Standard Cutting Pads and Multipurpose Cutting Platform; all other dies and accessories are sold separately. Here's a view of the Cutting Pads and Multipurpose Cutting Platform.
Now lets discuss the dies.
Bigz and Original
dies are designed to cut through multiple sheets of paper and a variety of materials, such as Designer Fabric, Designer Series Paper and more. Here is a sample photo of what a Bigz die looks like.
The
Embosslits
dies cut and emboss at the same time and are designed to only cut one sheet of card stock at a time. Use paper that is the same size or larger than the die.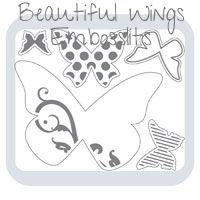 Edgelits dies create die-cut card edges with an open design that allows you to place the die exactly where you want them. These dies are designed to cut one sheet of card stock or paper at a time.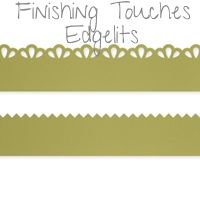 Framelits are thin open design dies that cut multiple sizes for layers or use a single die cut as a accent. Framelits allow you to see exactly where you are cutting without guessing!
Textured Impression Embossing Folders create deep, bold embossed images. Designed to emboss one sheet of card stock are paper at a time.
Depending on the die you are using you are required to build a sandwich using your Multipurpose Platform to ensure a proper cut. I'm not going to go into the sandwiches you would use for each die, but instructions are included when you purchase the die and your demonstrator would be happy to help you make sure you have all the necessary parts needed and to help you build your sandwich properly!
I hope this has been helpful information! Now the next time I mention I used the Big Shot you will know what I am referring to! It really is a fantastic tool and I find myself using it for every project!
Don't forget I'm participating in the LNS 2013 Spring Treasure Hunt and I've decided to give away my clue, so you will want to participate in the treasure hunt and return your clues to me at the end of the contest!
Win $150 in Stampin' Up! Products
join
me on Facebook
follow
me on Twitter
be inspired
on Pinterest