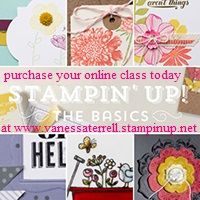 New to stamping or interested in becoming more professional at it? This fabulous online course "The Basics" from Stampin' Up covers all sorts of techniques every stamper should know. There are 34 different projects with instructions and complete supply lists, and everything is printable so you can work on them at your own pace and file the sheets in a binder for later use. There are even coordinating You Tube videos!
The online class is divided into six categories:
Stamping basics (seven projects)
The Stamp-A-Ma-jig (four projects, video)
Masking (four projects, video)
Embossing (seven projects, 2 videos)
Markers & watercoloring (six projects, video)
Big Shot and punches (six projects, 2 videos)
Each section is designed to take you from the simplest, most basic use of the technique or tool and gradually layer on more advanced techniques, with tips along the way. The instructions are simple and precise, and you can view the videos an unlimited number of times, stopping at starting at will. (Note: When downloading, select "For other applications" rather than "For My Digital Studio.")
So whichever way you like to get your inspiration, it's there. And at only $14.95 and downloadable to your computer or laptop, it's easy and affordable to have inspiration at your fingertips wherever you go!
Click here to view The Basics
on my shopping website. (Item #133385)
Thanks for stopping by and remember to
subscribe
to my email list you could be selected for my happy mail of the day!
join
me on Facebook
follow
me on Twitter
be inspired
on Pinterest