Hi friends, I'm really posting late today. Got really behind in my chores around the house. So this messed with my day of crafting! Don't you hate when that happens?
Today I played along in a challenge the found while surfing the net, from a blog called
Hand Stamped Sentiments
. So I decided to give the challenge a try.
I like doing challenge's, because it helps me if I'm stuck and not sure what I want to create. So here is how I used this challenge.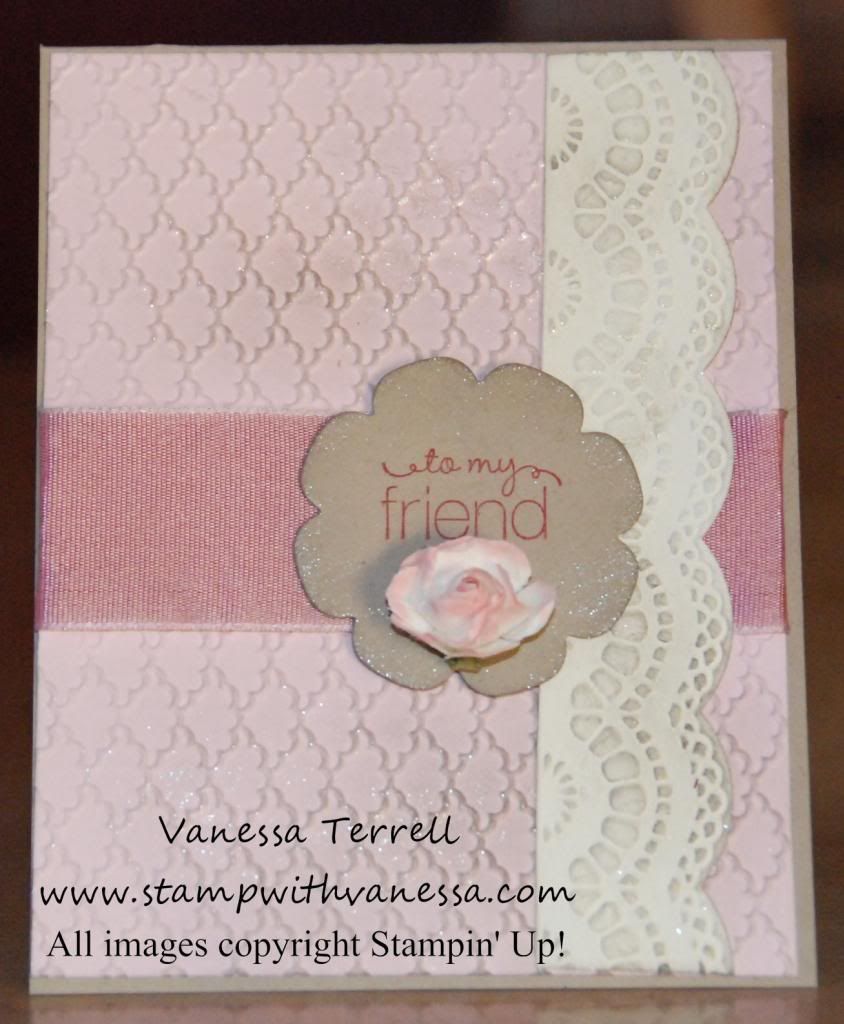 I really used my Big Shot on this card! Can you tell? I also sponged ink on all the layers and I even sponged some Champagne Mist Shimmer Paint on the layers as well. The little flower is from the Spring Catalog. Its part of the Artisan Embellishments Kit on page 10. I had fun playing today, even if it is late.
Supplies Used:
Stamp Set: Friendly Phrases
Card Stock: Crumb Cake, Very Vanilla and Pink Pirouette
Ink: Rose Red and Crumb Cake
Accessories: Big Shot, Fancy Fan Textured Embossing Folder, Delicate Designs Folders, Large Scallop Edgelits, Floral Frames Framelits, Pink Pirouette Two-Tone Ribbon (Spring Catalog), Artisan Embellishments Kit and Champagne Mist Shimmer Paint
Thanks for stopping by!
Click here to place a Stampin' Up! order 24/7
.